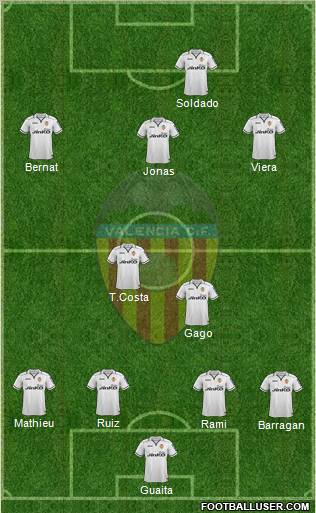 Editor Paul Wilkes looks at the key tactical influences in this match between two struggling teams.
Mathieu struggled at left-back
The understanding between Jordi Alba and Jérémy Mathieu over the last few seasons has been sublime, combining well and covering for whoever was furthest forward. Mathieu appeared more vulnerable with a more natural winger in-front of him, Markel Susaeta and Óscar de Marcos both gave him a torrid time in the first half, crossing the ball early when he wasn't tight enough, beating him individually and looking to overload him with 2 v 1situations. It was no surprise the opening goal came from his side as he was caught out positionally, as Iker Muniain'spass got in behind him, though the Frenchman was unfortunate that his last-gasp sliding challenge fell to Aritz Aduriz. Who opened out his body and executed a curling effort into the back of the net.
Athletics vacant central midfield
Whilst both teams lined-up in a 4-2-3-1, there was a slight difference in the tactical discipline of the holding midfielders. Fernando Gago has superb positional sense, he knows when to push forward and when to just sit and protect his defence, assisted further by the communication with Tino Costa. On the other hand, Ander Iturraspe is better suited to linking defence and attack, shuttling up the pitch rather than sitting. De Marcos and Susaeta both looked to attack the right-hand side, this meant that the central midfield as a whole would vacate to join the counter-attack, leaving them very open. Gago, Jonathan Viera and Tino Costa all got shots off from just outside the area in the opening 25 minutes, as Athletic's midfield parted to easily. This improved later on when Athletic were forced to defend the game in the closing stages.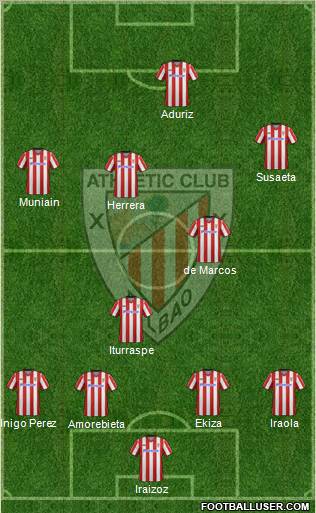 Iñigo Pérez follows Viera to the left-wing
Shortly before Jonathan Viera wins a penalty, courtesy of a Borja Ekiza handball, he drifts over to the left-wing to get involved. In a surprising move Athletics left-back Iñigo Pérez stays with him, Viera receives the ball and cuts in on to his favoured right foot, as Iñigo Pérez stumbles it gives Viera half-a-yard to provide a cross which hits Ekiza's arm. Roberto Soldado coolly slotted home from the spot for the equalizer.
Both teams struggled to defend corners
There were early warning signs, an Amorebieta header squeezed just past the post. Not long after Victor Ruiz should have done better at the other end. It emphasised the problems both teams have faced in the season to date. Unorganised defensively, lack of co-ordination and poor understanding of individuals responsibilities. It was hardly unexpected that Aduriz scored from one to give his side the lead on the half-hour mark, as Ruiz made more effort to cling on to his former teammate than trying to clear the ball.
Athletic play less long balls, as confidence grew
In the opening exchanges you would have been forgiven for thinking Joaquín Caparrós was back in charge. A number of long balls were played from centre-backs to forward, which would have been better suited for Fernando Llorente, but as Athletic took the lead and confidence grew this became less apparent. The flair players Ander Herrera and Muniain wanted the ball and the team no longer looked to bypass the midfield, showing rare glimpses of last seasons expansive style.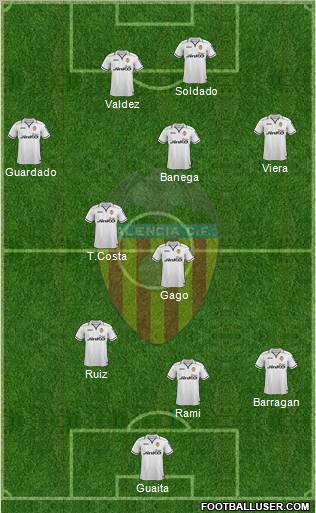 Soldado dragging Amorbieta out to the flanks
Fresh from the hairdressers Amorbieta had a continued running battle with Valencia forward Roberto Soldado, the former Real Madrid hit-man often isolated his opponent dragging him out wide. This created more space for the advancing midfielders and wingers, though only Viera took advantage of this on one occasion in the first half. Had Sofiane Feghouli and Pablo Piatti have been fit and playing, you get the impression it would have been seized upon more frequently. Soldado turned his defender using his body a number of times and should have been awarded a penalty in the 71st minute, after a clumsy challenge by the Venezuelan born defender.
Athletic go down to 10 and move to a 4-1-4-0
A pointless and immature kick-out by Ander Herrera caused him to see red. Marcelo Bielsa brought off Aduriz and effectively played without a striker. Athletic put 10 behind the ball and looked to keep a certain amount of intensity, but they sat deeper and deeper as the final ten minutes progressed and players tired.
Enter Éver Banega for Jérémy Mathieu
With Athletic offering little goal threat, Valencia brought on the Argentinean who has recently returned from injury. They moved to a lopsided 3-2-3-2 which occasionally looked like a 4-2-2-2 due to Andrés Guardado sometimes dropping into the left-back role that was previously Mathieu's. They moved the ball around better, utilising the spare man advantage well, it was a good tactical move by Mauricio Pellegrino, that ultimately led to the equalizer and winner due to the sustained pressure it created.
FT: Valencia 3-2 Athletic Bilbao - Soldado(pen), Tino Costa & Valdez - Aduriz 2